The Degree for a Global Future
Only at Georgetown
As business and politics become increasingly interconnected, Georgetown University has created a first-of-its-kind degree to prepare leaders for today's globalized world.
A single, joint degree from the Walsh School of Foreign Service and McDonough School of Business, the Dikran Izmirlian Program in Business and Global Affairs (BGA) features hands-on experience in Washington, D.C., and around the world; dedicated resources at both schools; and a diverse cohort of students and alumni passionate about solving pressing global issues. 
Found only at Georgetown, this groundbreaking program offers:
An innovative approach to understanding complex interactions at the intersection of business, geopolitics, and global policy;
A four-year sequence of signature, interdisciplinary courses developed for this program and co-taught by the faculty of both schools;
On-location experiential learning in Washington, D.C., and around the world;
A cohort-based model that develops a close-knit learning community; and
Academic and hands-on preparation for positions in multiple settings and sectors requiring practical experience and a global perspective.
My engagement with the BGA program has facilitated tremendous intellectual growth. Not only has the program exposed me to the empirical social science behind political economy issues, but it has pushed me to formulate a robust normative ethical framework through which to assess whether a policy produces desirable outcomes.

Kenan Dogan (SFS)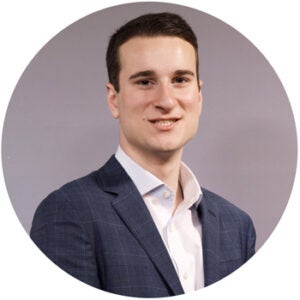 People who grew up belonging to multiple cultures understand that while it is undoubtedly a privilege, it can also make one feel like an outsider. As a Belgian citizen raised in Texas, I often felt torn between my two identities and struggled to find my place both at home in Texas and with my family in Belgium. As I grew older, attending an international school and engaging in global learning opportunities led me to realize how lucky I was to have these identities: my experiences as a global citizen shaped my worldview and my desire to positively impact the world.

Courtney Mawet (B'24)